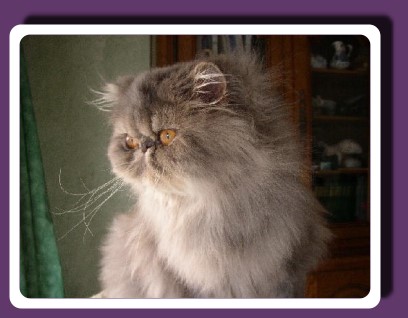 Isidora de Font Frede
Blue Tabby female
DOB 06/23/2003
Saphir de la Charmeraie x Esencia de Africa
Revillion's Lovely of Bougainville
White CE female
DOB 04/10/2004
Artemis Man In the Moon of Revillion x
Kountrylovin Firefly of Revillion
No Comment Anibal Lecter "BALOO"
Exotic Shorthair red blotched tabby
DOB 09/20/2005
No Comment Tiger Woods x No Comment Thora

Lives now with my son in Gabon
Sérénys MAGNOLIA FOR EVER

DOB: 09/10/2001
SEILKIE'S Joyce x C.I. Romy de LA FARE
Championne d'Europe

SPAYED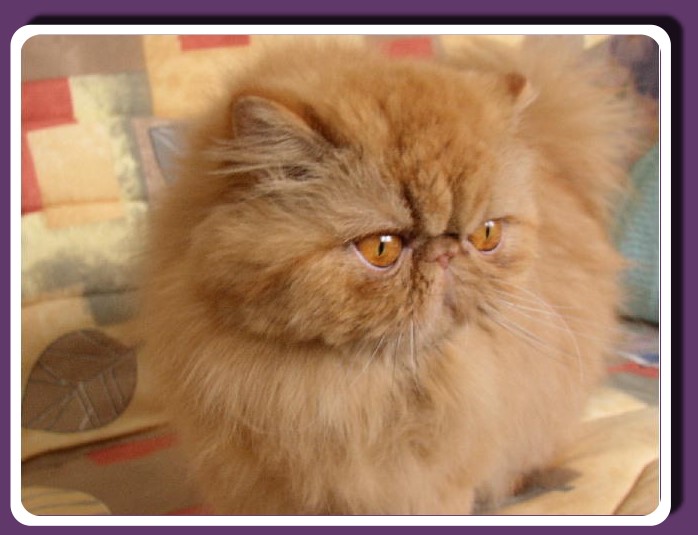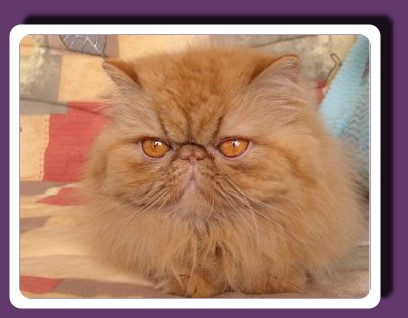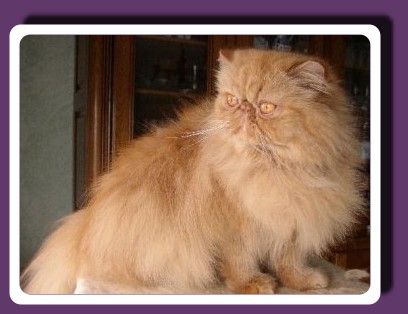 Oakheaven's Fine Line dit Forest
DOB: 04.15.1995 SPAYED last litter in 2004
Brown Blotched Tabby
GC Oakheaven's My Ship Came In x
GC Catley Creue Cuddle Bug Of Oakheaven
Grand Champion d'Europe
A lot of bests varieties, bests in show & bests
staying at home
Oakheaven's Linda

DOB: 08.27.1994
SPAYED, NEVER GET KITTEN
TORTOISESHELL
International Grand Champion
A lot of bests varieties, bests in show
& few best
staying at home
Laïssa de la Ronde d'Emeraude

DOB: 05/30/ 1995
SPAYED, never get kitten
chinchilla
G.C.E. Bruce de Chrysseleine x
CH. Bora de Channel
CHAMPIONNE D'EUROPE
a lot of bests varieties,
nominations & few best in show.
VALIDIAN'S Sweetly - NEUTER PKD +
Live with my friend at Pau
C.I. Romy "Ronnie" DE LA FARE
SPAYED
C.I. Léandre de LA FARE x
CH. My Sweet Stardust d'ARGENTIERE
Stay at home
Vixent-Lian de ZUCCABAR
NEUTER
DOB: 03/15/ 2004
GC - RW FABUL'S Chippendale Dancer x
CH CFA PAJEAN'S Taboo of Zuccabar
Now retired from breeding / retiré de l'élevage

No Comment Darwin
Exotic Shorthair Brown blotched tabby
D.O.B. 01/06/2008
PLANET LOVE'S Midnight Surprise of No Comment x
NO COMMENT Victoria
PEDIGREE






©2008 Magnolia For Ever & Webdesign Passion Féline. Propriété exclusive contenant, contenu et Graphique.
Distribution et reproduction interdites. Les photos présentées sur ce site sont la propriété de leurs auteurs respectifs.